SERVICES » IT Consulting | ERP Systems | Software Development | Testing/Quality Assurance | Outsourcing
Testing and Quality Assurance
When developing software products and solutions we focus on quality. Quality is our key differentiator. It drives value for our services, software packages, applications and solutions and provides customers economic sustainability and leveraged ROI. Quality assurance is a field in the IT industry, which covers knowledge and experience, best practices and recommendations for guaranteeing quality. And Rila is taking the best of the worldwide QA knowledge.

Since establishment, Rila Solutions starts building-up its own quality management system, using global experience and best practices to ensure working mechanism for quality assurance and overall performance of IT projects. Quality assurance is top priority in all our projects and is secured by the Quality Management System (QMS), which is ISO 9001:2008 certified and is aligned with the principles of CMMI Level 3.

Rila Solutions has a great team of Quality Assurance engineers with hands-on experience and expertise in the QA processes and the different test methodologies and tools which are continuously being researched, applied and mastered in real projects. The team provides professional services in the field of quality assurance starting from consulting, planning and execution of tests, to reporting and quality control throughout the whole project lifecycle.

Our usual style of doing business assumes close collaboration with the client for identification of functional and non-functional requirements, creation of quality user test scenarios, definition of scope and resource requirements as well as development of mutually agreed project plan. The project results are strictly documented in project regular reports and followed in a bug tracking system.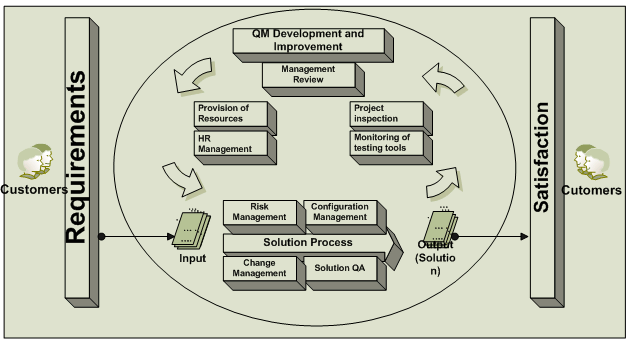 QA methods, technology and tools

• IBM Rational Test Manager, RequisitePro

• IBM Rational Software Architect

• IBM Rational Robot/LogViewer;

• IBM Rational Functional Tester;

• HP Mercury WinRunner, QTP (HP Mercury Quality Center);

• Rational Performance Tester

• Bugzilla, IBM Rational ClearQuest, Mercury Test Director

Participation of the QA team in Research and development projects in the QA&test field:

• Project "High quality software architecture based on Enterprise Service Bus" started in 2008 and financed by Ministry of Education. The project aims at improving the efficiency of the SOA testing, including enhancements of the test infrastructure of the existing Enterprise service bus implementation (Open ESB) with open source.

• Evolutionary Testing for Csxcn b omplex Systems (IST-33472), financed by FP6. The project is multidisciplinary and combines the advantages of applying evolution adaptive techniques by the biological evolution with software techniques in order to find optimal solution for Validation and verification of complex systems.